NEWS
Home of the 97 5.0 DIS (distributorless ignition system) Mustang
---
project: GEDYEUP
New plans are in the works for the 97 coupe I recently finished building. Instead of this being a "work" car with its 45,000 mile V6, it will receive a hearty boost in power within a few months with the following 17,011 mile 00 Merc Mountaineer (Explorer) 302 HO. The transplant will be documented w/ pics for an upcoming feature right here.
---
UPDATE : Project GEDYEUP is underway (10/21/01)
The 3.8 V6 came out of the engine bay this afternoon to make way for the new motor. A set of GT40P (Mac) headers were purchased for the conversion and will be bolted in once the motor is in place. The '00 302 had to undergo a few changes for Mustang duty such as a new dual sump oil pan w/ pickup, 94/95 fuel injector rail, motor mounts, and the GT40P headers, along with a few other supporting parts.
10/27/01: The new GT40P motor has been installed into the engine bay. The motor slid right into place with little effort and aligned right up with the transmission input shaft and bellhousing, couldn't ask for it to have gone any smoother. The 97's K-member motor mounting plates are located further to the rear than that of the earlier V8 cars, either a custom set of motor mounts will be fabricated or a K member swap to the 94/95 style will be performed. Some of the mechanicals are going to be installed next followed by the super task of wiring.
---
11/04/01: The K member has been swapped out for the 94/95 style (bottom), this allows either the earlier V6 (up to 1995) or the 5.0 motor to bolt in. The 96+ K members (top) are the same for the 96+ V6's or the 4.6 V8's.While the brakes were unbolted for this swap I used this oportunity to upgrade to the 99'+ 2 piston PBR calipers along with S/S brake hoses. The Mac GT40P headers fit well are of decent quality, the fit was alittle tight but bolted right up with the seperate port plates. The H pipe used was a low mile 94/95 factory piece. The air pump pipe into the rear cats has been welded shut as the 2000 Mountaineer/Explorer do not use an air pump. The H pipe will be upgraded for further flow enhancements in the future. Most of the mechanicals are out of the way and next up I will concentrate on the wiring. I am considering using a 96-98 4.6 engine harness and computer in an effort to retain the DIS system, in theory the computer shouldn't reconize the difference between the 5.0 and the 4.6. Due to VERY tight engine clearances at the front of the motor from both the power steering reservoir and the coil packs, custom brackets are being fabricated to lower these down for some needed clearance.
---
11/10/01: The CAI kit and all mechanical parts have been completely installed. With the use of many 94/95 parts as well as 98 V6 fuel evaporative canister and related hoses the smog system should be to standards required by the state of California . I am now currently awaiting a 97 4.6 engine harness as well as related harness's to start wiring the motor and the distributorless ignition system.
---
12/10/01: With the use of a 96 EEC-V 4.6 mustang computer, a heavily modified 97 4.6 engine/computer harness, and a 80mm 4.6 MAF meter, the motor is being wired in the configuration of the 4.6 using most of the original 5.0 sensors.
---
12/28/01: Finally the day I have been waiting for...........................
today at 1:00 PM the 2000 GT40P 5.0 motor was fired up and came to life with the twist of the key. I will spend the next several days going back over the installation and confirming all bolts are tight, connections are secure, wiring is correct, and scan the computer for any trouble codes or irregular sensor values.
---
01/12/02:
The car was taken for a test drive and the results were quite impressive, the 5.0 DIS motor revs nicely and has quite a bit of power and torque. There is an idle problem I need to cure as it won't quite idle right (too low). An original 98 Cobra guage cluster is being modified to run with this setup and installed shortly. A compass mirror from a 2001 Merc. Grand Marque has been installed as well
---
02/02/02:
A 3:55 geared 8.8 rearend is currently being rebuilt and will be ready for installation by next week hopefully. A set of Ford Motorsport C springs will be added at this time as well.
The idle issue has been resolved and the car is running FANTASTIC, the problem was a faulty IAC that was failing intermittently. The spark plug ends/boots have been changed from a straight design to an MSD tight 90* style for header clearance as it was a VERY tight fit.
A set of 85/86 GT "Halo" style headrests have been added to change the look slightly, I definately like the results as they look great.
---
02/12/02:The fresh 3:55 geared 8.8 was installed today along with a set of 98 GT rear sway bar and Ford Motorsport "C" springs
---
04/18/02:
A set of polished 99-02 factory Cobra 17" wheels have been added along with an original Roush front splitter air dam.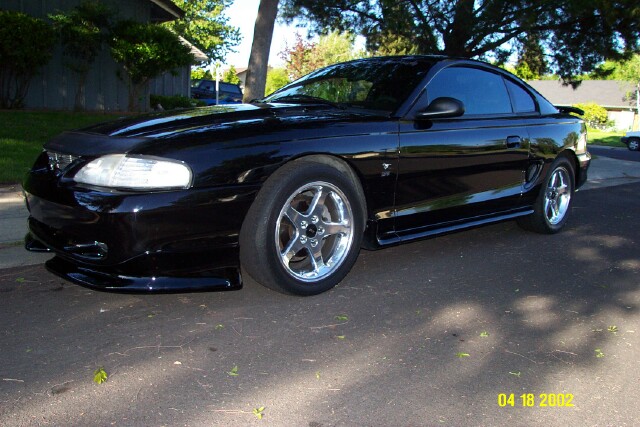 ---
07/7/02:
A brand new 96-98 factory Cobra hood has been installed along with a FMS 65mm throttle body. Definately an improvement in looks AND performance.
---
07/30/02:
A JET performance underdrive pulley set has been ordered and is due to arrive on the 30th. This should definately help the 5.0 motor unleash a few extra horsepower.
UPDATE: Jet performance was marketing the 90103 kit for Explorer 302 applications which they WILL NOT fit due to its one (1) piece harmonic balancer and pulley design. They have been contacted and made aware of this situation (not that it seemed they cared when I contacted them by phone) They get an F for their technical support/customer service !!!!!
---
10/16/02:
A set of smoked tint aftermarket front headlights/marker lights has been installed, this greatly increased the look of the car
---
11/24/02:
The original center console has been swapped in favor for a 98 unit which has the front dual cup holders, the 97 storage box was retained for its additional fold out cupholder. A leather (2000+) leather E-brake boot has been modified and installed to the handles opening around the console (looks MUCH better) A leather Cobra handle has been purchased and will be installed shortly.
A Bullitt fuel door has been installed, prior to installing it was sent out to receive a black powder coat finish to match the body color. The door blends in and looks FANTASTIC !!!!
A set of 86-93 aluminum EFI valve covers have been custom powdercoated with a black/silver circles finish with a clear coat. The covers were dropped off and it was left up to them to come up with something different, it has to be one of the trickest finishes I have ever seen !!!! Several other engine compartment items will be done in the same powdercoating finish.
---
12/24/02:
A new Mac X pipe has been installed, A rear set of oxygen sensor nuts have been welded in and a set of MIL eliminators have been installed to correct the lit check engine light due to the rear (after cat) O2 sensors.
A set of tubular polyurethane bushing rear upper/lower control arms have been added to the rearend.
---
01/04/03:
A 255 LPH Walbro (GSS307) fuel pump has been added for an increase in fuel. The car has been running on the stock V6 pump since conversion, definately a difference at top end !!!
A FMS E303 cam has been purchased and awaiting install, this will definately generate additional power from the Explorer motor.
A new Fluidyne radiator was due to arrive today BUT due to a shipping problem it won't arrive untill Tuesday (1-7-03)
---
02/20/03:
A set of 94/95 GT black seats have been installed, these are much more comfortable and offer greater support.
The passenger side was treated to an adjustable bolster to match the drivers side, Ford stopped adding this to the passenger side GT seats in 93.
---
03/29/03:
A custom Fluidyne radiator has been added after a few modifications were made (96+ radiator w/ filler neck added)
An SSP (ala CV cop car) heavy duty 7"x11" oil cooler w/AN fittings and sandwich adapter has been installed to keep the oil temps down, also added to aid in its cooling was a Kawasaki Ninja radiator fan right to the front of the cooler.
A set of Maximum Motorsports rear control arms were installed providing an extreme difference in handling characteristics, after breaking a rear HD rear sway bar, a Steeda HD rear bar was installed.
To further prep the suspension, a Maier Racing full length subframe connectors will be welded in as time permits.
---
Stay tuned for more goodies added to this potent project
---
I have been in contact with Byron at Race Systems and will be coordinating a meeting to do some custom programming using an AutoLogic chip to tune the computer and get the most out of this combination as soon as I am happy with the combination.
---
MORE PICTURES AND ARTICLES TO COME SHORTLY AS WORK PROGRESSES
---
Please check the

button for special featured items and deals